* Star Cockapoos *
Emma Horsley
I have been breeding Cockapoos from 2019, this has been an ambition of mine since childhood and my dogs are much loved family pets who receive top care from me in my home.
I am passionate about breeding hybrid dogs and I have two cockapoos, Mother and Daughter, Star the Mother has now retired and been neutered, and Myla is a year old, they are much loved family pets. All my litters are raised in the heart of our busy home with other dogs, cats and children, the studs I use and my cockapoos are fully DNA Health tested for 250 diseases and the puppies of all litters I produce are all clear of these awful diseases, documents will be included in the puppy packs.
Here at Star Cockapoos we follow the ENS puppy program which we truly believe helps in starting the pups off with a great attitude to life, to be confident, happy and outgoing dogs so they can take everything in life in their stride! We have advice and support for taking your puppy home which includes information on the key developmental stages of your puppy as they grow with you in their new home.
We action a full socialisation program whilst the pups are with here, they will be tactile from the many cuddles they will receive, there will be an extensive puppy pack and ongoing support for all new owners throughout the dogs life.
I, the breeder and the new owner sign a contract outlining our commitment to the puppy. All puppies will go to their forever homes with a Gold Standard Puppy Pack.
As well as being fully DNA Health tested, the stud I have chosen for the next litter has been DNA Coat tested, the stud's results are F/F - Double Furnishings with 'a non shedding' and 'curly proper coat'. Therefore it is guaranteed that 100% of his puppies will also carry the DNA F/F - Double Furnishings, this means the puppies will be hypoallergenic and non shedding with the desired cockapoo look.
I currently have an open waiting list for new owners (once they qualify) and I have plans for a litter mid to late 2024, please contact me to ask further questions and complete a questionaire for the waiting list.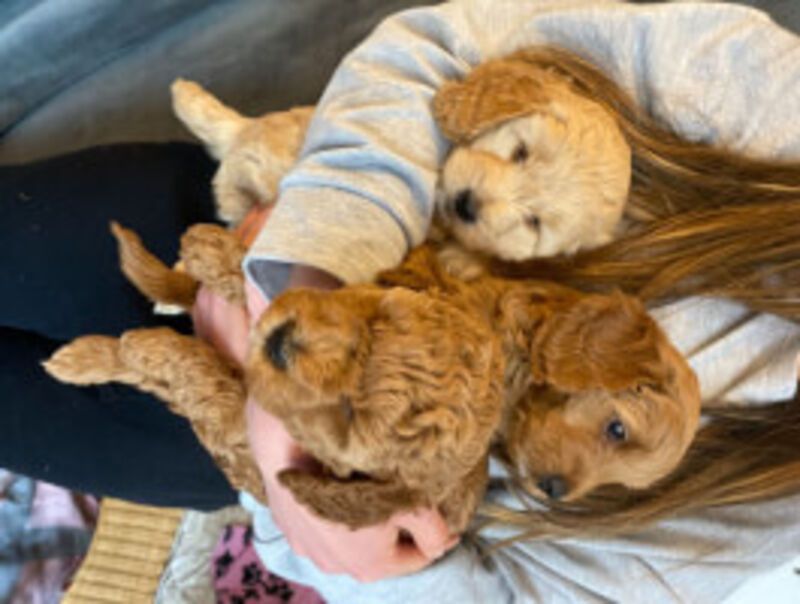 ---
Current Listings
Below are their current listings with us
No listings found, are you a breeder?
Join now
Contact details
Name * Star Cockapoos *
Tel: 07824397628
Location
More info
Follow * Star Cockapoos * and be notified when they add more pets or updates.